Press: "Morella's Mission: More Women in Congress" by Lauren Ober, AU Today
FMC President Ambassador (ret.) Connie Morella (R-MD, 87-03) was interviewed for the article, "Morella's Mission: More Women in Congress" on her quest to encourage more women to run for Congress. The following article was originally published in "AU Today" and can be found on their website here.
"Morella's Mission: More Women in Congress"
by Lauren Ober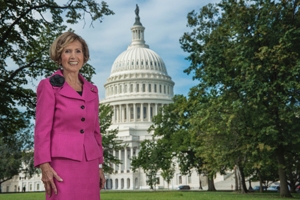 In Connie Morella's Women in Congress class, she asks her students to research four female members of Congress past or present. This year, her class had 278 women to choose from — the total number of women to hold Congressional seats since 1917 when Jeannette Rankin became the first female member of Congress.
Had she given her students this assignment in 1954, when Morella, SPA/MA '67 was a college senior, there would have been only 13 women to choose from.
Women in politics have made huge leaps since Morella was a young woman. Morella, SPA professor and Republican member of Congress from Maryland from 1987 to 2003, has been at the forefront of much of that advancement.
"Congress has gotten so bad with its partisan bickering that only women can save them," Morella said.
In the most recent election, women won a record 98 Congressional seats — 20 in the Senate and 78 in the House. The gains were not as significant as those made in 1992, the "Year of the Woman," when female ranks in Congress swelled from 32 to 54.
But 2012 was surely the most important year for female candidates since then. Many of those women might not have reached these political heights were it not for Morella's efforts.
For years, Morella, ambassador in residence at AU's Women and Politics Institute, has been a vocal advocate of women in public office. Most recently, Morella was a part of the 2012 Project, an effort to get more women elected to Congress.
The initiative stemmed from the outcomes of the 2010 mid-term election where women saw their numbers in Congress drop for the first time in 30 years. The group focused on 2012, Morella explained, because it was a redistricting year and female candidates tend to do well when the electoral maps are redrawn. Plus, voter turnout tends to be higher during presidential years and women seeking office benefit from that, she said.
Morella and her collaborators, many of whom were former legislators, sought out women who had an interest in politics, but perhaps not the means or the confidence to run.
"We said, 'Come on. You've got it; you've got the skills. We'll help you connect,'" Morella said. "And I must say, we've had some success."
It's like the old adage about dancer Ginger Rogers, Morella said — Women have to do everything men do, but backwards and in heels.
Women have to work harder in Congress to establish credibility and prove they have the gumption to get the job done, she explained.
Despite the record number of women who will be entering the 113th Congress, they still have a way to go within the Republican Party, Morella lamented. "This election should have pointed out to the party that the 'same old same old' has to change," she said. "They need to reach out to women. They're too comfortable with people just like they are."
Prior to Rep. Candice Miller's eleventh hour appointment by House Majority Leader John Boehner to chair the House Administration Committee, only men had been tapped for committee chairmanship.
This distresses Morella, especially considering that when she entered national politics in 1987, there were equal numbers of Republican and Democratic women in Congress. After this most recent election, Democratic women outnumber their Republican counterparts three to one.
"The last election should be an emergency example that [Republicans] are on the edge of a cliff," Morella said. "The issues have gone so far to the right, there's not much appeal, especially for younger women."
During her political career, women have become standard-bearers for causes that might otherwise be ignored, Morella said. It was female legislators, including Morella, who pushed for the Violence Against Women Act in 1994, which was reauthorized in 2000 and 2005. The law was up for reauthorization this year, but stalled in the face of stiff opposition from House Republicans.
Another cause championed by Morella and her fellow female lawmakers was women's health. When Morella was in office, she helped establish the Office of Research on Women's Health at the National Institutes of Health. She sponsored legislation to increase research on HIV/AIDS in women and to increase access to preventive services for women.
"Women were able to communicate to the guys that they had a constituency that cared about these matters," Morella said.
When Morella first entered the national political fray, she was one of only 25 women in Congress. In 2003, when Morella left public office, that number had tripled.
If Morella's Women in Congress class is any indication, those figures will continue to grow. All of her students have political ambitions. The number of her students who are already working on Capitol Hill amazes her.
"I do think things will continue to get better [for women in politics] if we give them the encouragement and remove some of the impediments to their seeking office," Morella said.